The Poptropica store has been updated with a fun Friday surprise for the summertime. It's not quite Summer yet, but now you can celebrate in style with the Mythology Surfer Outfit. This outfit is probably inspired by the surfing scene in Mythology Island when you head towards Poseidon's domain. The surfer costume can be purchased in the store for credits (it's free if you're a Poptropica Member).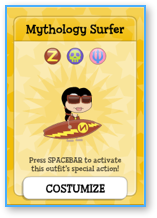 There are three different versions of the costume that you can use, the Zeus edition (red and yellow outfit and board with a lightning bolt), the Poseidon edition (pink and blue outfit and board with a trident) and the Hades edition (purple and green outfit and board with a skull). Each outfit has a top and a bottom and a special necklace, too.
If you press the spacebar while holding the surfboard, your Poptropican will hold up the board and smile.