Fresh off the heels of the release of Monster Carnival Island, the Poptropica Creators have announced the next island to arrive in Poptropica, and it's called Survival Island.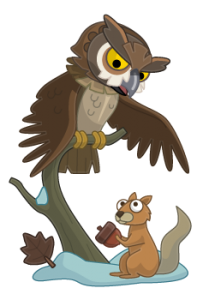 Inhabitants of Survival Island in Poptropica.
Poptropica Survival Island will be the first episodic island in Poptropica, meaning that it will be released in parts, starting with episode 1. So when it launches, you won't be able to complete the whole thing–you'll need to keep coming back as more episodes are released. On the plus side, we won't have to wait as long for a new island to arrive. The Creators explain this in their blog post on Survival Island.
Episode 1 of Survival is called Crash Landing and members will be able to play on March 20. Here's a short description of what we'll see on the first episode of this new island:
Night has fallen and the temperature is dropping. Alone in the forests of the Yukon, you must find a way to build a fire — but time is running out.
Stay tuned for the walkthrough and all the cheats for Poptropica Survival Island!
{ 0 comments }