Last week, I posted about four fashionable outfits for girls in Poptropica. Now I'm following up with four cool outfits for guys. They're not quite as fashionable, but these are fun and functional outfits for the Poptropican on the go. Best of all, they're easy to locate. If you're not familiar with how to copy costumes from Poptropicans that you meet, be sure to check out my costumizer tutorial first. Got any other suggestions for great costumes for boy characters in Poptropica? Just post away in the comments section and share your favorites.
Pilot from Nabooti Island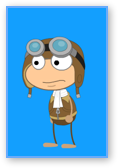 You'll always look adventurous in this classic 1930's style airplane pilot outfit. It comes complete with goggles, and aviator's cap and scarf, and a classic flight jacket. You'll look cool and retro while adventuring around all of the Poptropica islands. The best part is this costume is really easy to get. Just travel to Nabooti Island and run over to the left. The pilot is waiting for you by his airplane.
Grim Reaper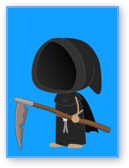 This costume will make you the life of the party. And a party is exactly where you'll find it. Complete the Halloween mini-quest, which is available as a purchasable "gold card" in the Poptropica Store (it's free!) If you need help finishing the quest, try this Poptropica Halloween walkthrough. At the end of the quest you'll arrive at a Halloween party and you can costumize any of the outfits you see Poptropicans wearing there. The grim reaper, with dark hood and scythe is definitely the coolest and most popular.
Aztec Priest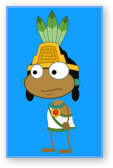 The look of the Sun God is all the rage and a quick trip to the Aztec Empire in Time Tangled Island will get you your choice of very fashionable Aztec wear. There's a lot to choose from, but my favorite is the priest outfit. He's standing next to the Aztec King at the top of the pyramid. Unfortunately the skull staff can't be costumized, but the ceremonial headdress and robes are a great look.
Camouflage Guy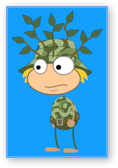 This guy is one of the operatives that you meet in Spy Island. He's located just to the right of Main Street in the Balding Avenue area. You'll find him crouching down on a wall near some bushes, trying to look inconspicuous. This outfit is a camouflage shirt and hat, complete with tree branches taped to it. It's perfect for just blending into the background.