I can't believe I've been playing this game for over five years and I never noticed this one. If you jump to the very top of the Tourism Center in Shark Tooth Island, you'll find a warrior from Ancient Greece standing on the very top of the thatched roof. He's clearly out of place and if you click on him, he'll say, "How did I get here? I should be on Time Twisted Island."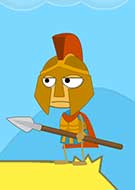 Two things are funny about this. One: I've never seen him before, but then again why would anyone jump up on that building? Two, the warrior calls it Time Twisted Island and not the final official name, Time Tangled Island. Some of you may recall the last-minute name change from Twisted to Tangled back in 2009 when the island launched. For a short time, the "coming soon" icon on the map showed it as Time Twisted as well.
So there you have it. There are lots of Poptropica Secrets out there. What are some of your favorites?