Update: The complete Mythology Island Walkthrough is here!
The twelfth main island to be released on Poptropica is Mythology Island. It was released first to Poptropica members in early access mode on April 1, 2010. Everyone will get a chance to play on April 29 when it becomes available to the public.
Here is a little bit of explanation of what Mythology Island is all about from the promotional page on the Poptropica Web site:
Mighty Zeus, king of the gods, needs a hero–and he wants you! To satisfy Zeus, you'll need to battle monsters, swim the depths of the ocean, and descend into the mysterious underworld. Will you emerge a hero like Hercules, or face the fiery wrath of Zeus and his thunderbolts?
In this mission, you'll get a quest from Zeus, king of the gods and need to perform several tasks. Along the way, you'll explore different areas, like Poseidon's underwater kingdom of the sea and the Underworld, domain of Hades. Here are the items you'll need to find on your quest:
A flower from the Garden of the Sphinx
The golden ring of the Minotaur
A scale from the Hydra
A giant pearl from the kingdom of Poseidon
A whisker from Cerebus, the guardian of the Underworld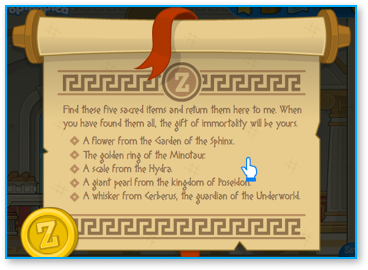 Mythology Island Overview
There are several different areas in Mythology Island, and in the course of your quest you'll travel to the kingdoms of Poseidon, Hades and ultimately Zeus himself. Here is a list of the different areas from the game map:
Main Street
Tree Base
Tree Top
Garden of the Sphinx
Labyrinth Entrance
Labyrinth
Grove of Temples
Poseidon's Beach
Poseidon's Realm
Hydra's Cave
Poseidon's Throne
Hades' Realm
River Styx
Pit of Hades
Mount Olympus
Zeus' Throne
Before the island launched, the creators of Poptropica posted several sneak peek screenshots to the official Poptropica blog. Here is a look at some of the screenshots, which gave everyone an early look at the newest island.