Skullduggery Island is only a day away from the public launch. Of course, paid members have been able to play it for a few weeks, but everyone gets access on Thursday. As everyone who reads this blog already knows, Skullduggery is all about pirates! And nothing reminds people of pirates more than pirate flags. The good old skull and crossbones on a black flag is a very recognizable symbol. In fact, pirates often flew this flag before attacking because some crews of merchant ships would be so scared at the sight of the pirate flag that they'd simply surrender without fighting. They knew the flag meant that the pirates were mean, nasty and would stop at nothing to get their treasure.
Cool!
But I bet you didn't know that there were a lot of different pirate flags in use throughout history. Here's a brief look at some of the most popular and famous pirate flags used during the height of piracy and some of the colorful stories behind them. And I'll also show you where you can find some of the pirate flags hidden throughout Skullduggery Island on Poptropica.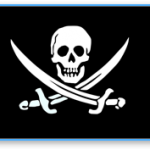 Want to get your own pirate flag? They're surprisingly cheap on Amazon.com. I found some for as little as a penny each! Check out this page
and you can have your very own pirate flag flying from your room. Or attach it to your bike or car and watch everyone else get out of your way. Aaaar!
The Jolly Roger
The Jolly Roger was one of the most famous pirate flag designs. Also known as the Skull & Crossbones, there were many different variations in use by pirates, but they shared some common elements.
They had a black background.
They featured a white skull in the center of the flag.
Underneath the skull, there was another emblem, usually two bones crossing over each other.
Famous Pirate Flags
Almost every notable pirate had a different variation of the flag. Most had either red or black backgrounds and all were designed to scare their enemies. Here are some of the most famous pirates and their flags.
Blackbeard
Captain John Rackham
Edward Low
Henry Every
Pulling a Switcheroo
In the old days, most sailing ships displayed their national flags prominently to better identify each other. A common pirate technique was to fly the same national flag as their intended target until they pulled within cannon range. Then, they would pull down the national flag and hoist up the Jolly Roger just before attacking. This switcheroo was called the ruse du guerre, which is French for a trick of war. This would surprise and panic the enemy, often allowing the pirates to board without much of a fight.
Pirate Flags on Skullduggery Island
There are a two places where you can spot some pirate flags in Skullduggery Island. The first is at the very top of the island at the Pirate Outpost. To reach it, jump on the roof of the cannonry, and then leap off to the left to get to the top of the mast, where you'll find the flag flying. The second is a plain black flag, located on Skullduggery Island itself. You'll use it at the end of the quest to find where the treasure is buried.