Round One of the Poptropica Island Smackdown now draws to a close. The two most recent island quests compete for the last slot in Round Two of the competition, where the eight winners will be one step closer to the crown. This competition will be especially fierce as Skullduggery Island squares off against Steamworks Island. These are both fresh in the minds of most people, but let's quickly recap both before voting below.
Skullduggery Island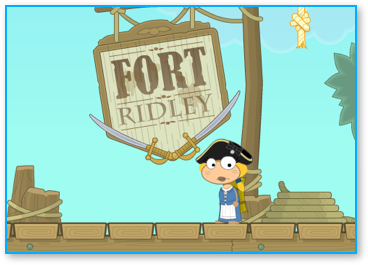 Ahoy mateys! It's adventure on the high seas ye be wantin' and Skullduggery Island delivers. This island came out earlier this summer and brought pirates to Poptropica in a big way. In Skullduggery, you start out in the small town of Fort Ridley, where the citizens have been the victims of a terrible pirate known as Captain Crawfish. You must save the island by acquiring your own ship and crew and then capturing Crawfish before he can do more harm. But it's not easy–along the way you must locate pieces of the treasure map for Skullduggery Island and do quite a bit of trading before you have enough wealth to buy a ship good enough to take on Crawfish. And danger lurks everywhere.
Steamworks Island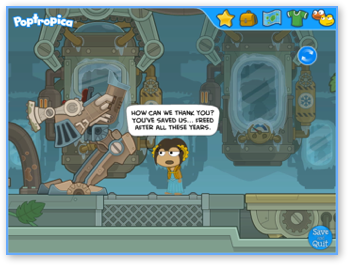 Steamworks Island begins like no other quest in Poptropica. You are alone. There is no one else on this island, and you eventually learn that it has been uninhabited for 200 years. What happened to everyone? That is part of the mystery that you must solve. Along the way, you'll encounter many puzzles and adventures as you explore this island once dominated by fantastic steam-powered machinery, but now reduced to rubble and overtaken by vegetation and strange plant life. Steamworks is one of the toughest islands ever released, with tricky and challenging puzzles, and one of the hardest boss fights ever. But it's also one of the most fun to play, and it features some of the most endearing characters we've ever met. Plus, you get to pulverize plants in a giant mech! Who could ask for anything more?
Sadly, only one of these two great island quests can advance to the next round. Which will it be? You get to decide.
Which Island is Better?
Steamworks (57%, 602 Votes)
Skullduggery (44%, 459 Votes)
Total Voters: 1,055
Loading ...