OK, so the science fair isn't really all that important to solving Shrink Ray Island: you can read the cheats for Shrink Ray Island guide if you just want to know how to finish the quest. But since I'm a science geek myself, I really liked the whole science fair part of the mission. There are some pretty funny experiments on display and if you take some time to look at each one, you'll find some fun surprises. Here's a video that shows all the exhibits on display at the science fair (it shows the end, when you can see CJ's winning exhibit on display).
The Shrink Ray Science Fair Exhibits
The exhibits are all on display inside the PS 101 River City school building, which you can enter from the Main Street area in the building. There are six exhibits in total on display, although the last one (CJ's experiment) is only available after you have solved the island. Here's a look at each one in more detail.
The Sixth Sense in Calamari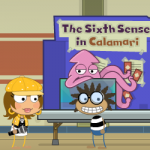 The first exhibit you'll see is called, The Sixth Sense in Calamari. It's presented by a nerdy looking boy in a striped shirt and wearing huge glasses. The exhibit features a giant pink calamari (squid) holding three playing cards. When you click on the calamari, he reaches out with one tentacle to point to a chart on the wall and reveals one of his cards. If you click on the boy, he'll tell you,
I got it right five times in a row!
This is a pretty weird experiment, but the calamari looks cool. Lately there are a lot of giant squid showing up in Poptropica islands. We've seen them in Skullduggery, Red Dragon, and now Shrink Ray. One of the creators must love squid! BTW, in case you didn't know, calamari do not actually have ESP or a sixth sense. Just makin' sure!
Balloons, Fashion and Electricity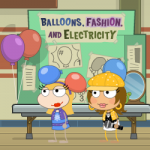 The second exhibit is put together by a blonde girl wearing a vest and a blue dress with a snowflake pattern on it. Her experiment show how static electricity can be used to stick a balloon to your head. But she's taking this principle one step further and making it a fashion statement. If you click on her, she'll say:
I wonder what else I could get to stick on my head?
Indeed! Here's the best part of the exhibit: if you click on the blue balloon attached to the exhibit, it will stick to your head while you're in the science fair. What do you think? Fashion statement or fashion disaster? Either way, this really works with balloons and it becomes an important clue to solving part of the island quest.
Chocolate Volcano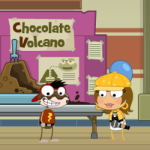 The third exhibit is my favorite: the Chocolate Volcano It's a new take on an old classic of science fairs: the exploding volcano. Click on the volcano to make it spew chocolate out of the side. Yum! If you click on the boy who did the exhibit, he'll tell you,
I'm going to do the same project next year!
From the looks of his face, he's really been enjoying this experiment at the science fair!
Candy and Soda Propulsion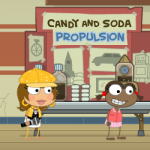 The fourth exhibit was put together by a girl in a pink dress and pony tails. Her exhibit shows how you can use certain types of candy mixed with soda to propel a rocket through the air. This kind of experiment was made famous years ago by many mentos and soda videos on YouTube (see below). The cool part about this exhibit is if you click on the rocket, a piece of candy will pop into it and then it will take off, zooming around the room and making some of the people duck for cover as it blasts around. If you click on the girl, she'll say,
Next stop: the Moon!
One of the original Mentos and Coke videos on YouTube:
Evolution of the Belly Button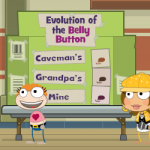 You know how every science fair has at least one exhibit that makes you go, "Huh?" This is that one. This science project was put together by a girl in jeans and a heart t-shirt. She documents the evolution of belly buttons, including a caveman's, her grandfather's and her own. Ummm, ok. Click on her and she'll tell you,
Now I've got a whole year to think of something better.
Yeah, better get right on that.
The Incredible Shrunken Man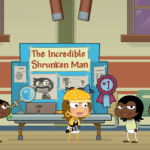 At last, we've come to CJ's winning exhibit, one you helped put together! It showcases Mr. Silva, CJ's science teacher (and a thief!) in his newly miniaturized form. It also shows off the shrink ray gun that CJ designed and built. Click on Mr. Silva and he'll say,
I'm finally famous. Yahoo!
I guess he got what he always wanted. Sort of. CJ and her parents are also here at the exhibit, which features the big first prize ribbon. When you click on them, they'll thank you for all of your help in rescuing CJ and capturing Mr. Silva.