Most Poptropica players know that when you use the costumizer feature on Poptropicans that you encounter, you usually cannot copy their facial hair, like beards and moustaches. Recently, Poptropica released a special Pirate costume for members that allowed boy characters to have a pirate beard. And now some players have discovered some fun little cheats on how anyone can get one of the facial hair options from a particular Poptropican. Thank you to everyone who wrote in about these tricks in the comments!
First of all, these only work for boy characters in Poptropica. Of course, if you've got a girl character, you probably wouldn't want facial hair anyway, unless you were going for the Bearded Lady circus look.
Dr. Hare's Secret Lab
The first thing to do is to get the Dr. Hare's Secret Lab card from the Poptropica Store if you don't have it already (it's a free item) (it costs 250 credits). Next, go to the Secret Lab and enter. Drop down to the lower right and enter the orange door to do the challenge. Then go right and jump on the platform. Jump off to the left and hide behind the box of carrots.
One of Dr. Hare's minions will walk on the platform up above you. Click on the costumizer icon on the toolbar and then click on him. Because he's moving, it might be hard to click on him, but try it a few times if you have difficulty. Once you costumize him, you can copy the pointy beard that he has.
And as I mentioned before, this trick only works for boy characters in Poptropica.
The Magician Outfit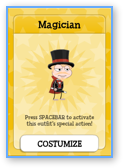 Many people pointed out in the comments below that there's another and cheaper option out there. Boys can also get facial hair by costumizing from the Magician outfit in the Poptropica store. It only costs 75 credits to purchase. Plus, you get the sweet costume as well.