If you've visited the official Poptropica Creators blog recently, you may have seen that they're running a poll in the blog sidebar asking about player spaces (a.k.a. houses) and whether we'd want to have them. The poll question reads, "Would you like your own space in Poptropica to decorate and play with friends?" The poll ends in a few hours. Here's what it looks like:
And as you can see from this screenshot, the response is pretty overwhelming.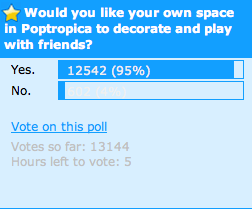 This would be a very popular feature in the game. We already have Multiverse rooms where we can hang out and chat/play games with friends, but they're not permanent and you can't decorate them. Player houses have been very popular parts of other games, like the igloos in Club Penguin or the many different houses in Dizzywood, but Poptropica has never had them before. And if the creators of the game are thinking about making permanent spaces available, they're probably also busy creating lots of items to put in them, such as furniture and other decorations. So if this really happens, there could be a lot of huge changes coming to the game.
What do you think? I hope that if Poptropica does introduce something like this that they'll be very creative with the style of the spaces you can get. It would be great to be able to pick a theme of a house from any of the different islands they have, like a castle from Astro-Knights or a cabin from Wild West Island. And it really all comes down to the decorations and furniture. One of the problems with the Multiverse rooms is that you can't change them with decorations, so they don't really feel like they're yours. I can't wait to see what Poptropica has in store!