There are two new items in the Poptropica Store this week. The first is the American Football Player costume, which has arrived just in time for the Superbowl. The costume costs 75 credits, and you get an outfit featuring a helmet, reflective eye paint, a uniform, and a football. If you have the costume on, press the spacebar to toss the football up in the air. Rumor is that if you turn your costume purple like the Minnesota Vikings, then you'll fumble the football instead. 🙂
There are four colors you can wear for the outfit: green, red, blue and purple.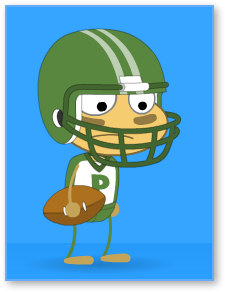 Another item that appeared in the Poptropica Store this week is the Avatar Studio Card. This is the same feature as the Avatar Studio that came out last year, but now you can activate it from inside the game. All it really does is open up a browser window on the Avatar Studio page. But hey, it's a free item!