Poptropica Counterfeit Island has now been released in Early Access. For the price of 500 credits, you can do the island mission now. I'll have a full Counterfeit Island Walkthrough really soon. In the meantime, get your credits together and head over to Counterfeit Island. Woo-hoo!
Counterfeit Island is an upcoming island on Poptropica that was first mentioned in the Poptropica Creator's Blog on November 9, 2009. Very little is known about the island right now except for a few hints that the creators have put in their blog since that date. The posts have included some screenshots of Counterfeit Island, including pictures of Comic Kid exploring the island and reporting on what he has found. There have also been some screenshots of citizens of the island wearing certain costumes, and even a picture of a player riding a scooter–something we can expect to be able to do on the island once it is released.
Counterfeit Island Video
The Poptropica Creators posted a video of Counterfeit Island on Youtube and it shows some of the cool things that will happen on the island:
Some more hints about what Counterfeit Island will be all about can be learned from the promotion on the home page, which shows some of the story behind the island. You'll need to investigate and stop an attempt by thieves to steal some of the world's most famous works of art which are on display in a museum on the island!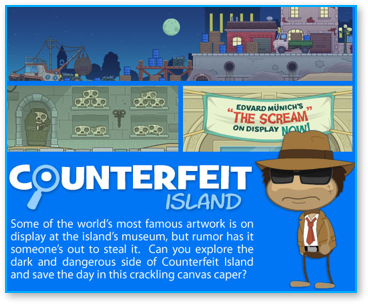 There is no mention of the release date, but all the activity on the official blog indicates that Counterfeit Island will almost certainly be the next island released in Poptropica, making it the tenth island. Previously, most people thought that the much-delayed Reality TV Island would be next after Astro-Knights Island, but now it appears that Counterfeit Island is up next.