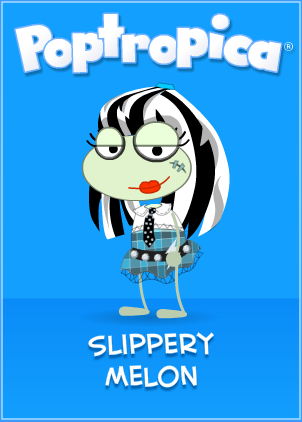 CONGRATULATIONS SLIPPERY MELON! With the them of "Anything Goes" no one knew what was going to sway the voters, but it looks like a little bit of undead with a whole lot of style and fashion brought Slippery Melon the prize. Here's what she had to say about her costume:
It's Frankie Stein from Monster High! She's so cute! She's also my favorite charcter from the series.
So, add Frankie Stein to the list of favorite characters along with Katniss. Who knows, maybe we should do another Favorite Character Costume Contest?
Thanks to everyone who participated, as always! Looking for suggestions for the next contest, so post them in the comments below. Virus Hunter Island, the most likely candidate for the next Poptropica island, hasn't been announced yet, but maybe we'll do a contest that's science themed in honor of its imminent release.