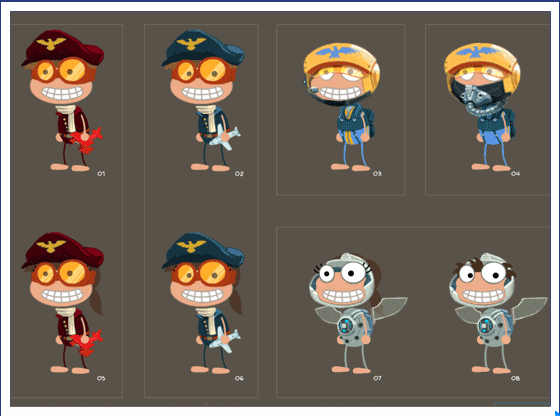 The Dailey POP posted this picture recently and it's got me pretty excited about what might be coming up.  Sure, this could be a teaser image for characters who are in the upcoming (and rumored to be named) Virus Hunter Island.  Maybe you have to be in the Poptropica Air Force before you can be shrunk down and injected into a virus-infected human.  BUT…I suspect that this is the first hint at an even newer island.  So, let's break down what we're looking at to see what it could be.
At first glance, it doesn't seem to be that big a deal.  Four different characters, two wearing variations on Air Force outfits.  But let's look more closely.  The one on the far left looks like a vintage WWII era pilot's outfit.  Based on the toy plane she's carrying, she might even be a WWI era bi-plane pilot.  Then there's the girl to her right in the blue version, holding a more modern jet, possibly from the '50s or '60s.  At the upper right is the most modern jet fighter outfit, complete with oxygen mask and helmet.  Finally, there's the outfit at the bottom right, which is clearly a futuristic version of the other three.  A jet fighter pilot from the future?  How cool is that?
So, what could possibly be the theme of an island with these four costumes?  Whatever it is, at some point it looks like we're going to get to don futuristic space-fighter outfits.  Awesome.
Let me know in the comments below what you HOPE these outfits mean.