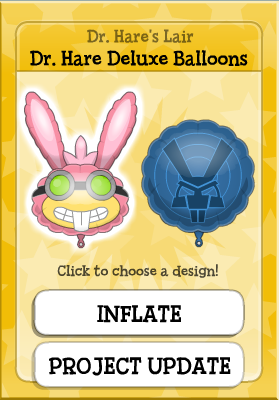 It's not the Dr. Hare costume, but maybe it's the next best thing. On the Creator's Blog they've announced that the Dr. Hare Deluxe Balloon is now available in the store since they reached their goal of 5,000 votes for their Lego set.  It looks like the image above. And here's their description:
Like a Giant Rabbot effortlessly soaring over the horizon, we have surpassed 5,000 supporters for our LEGO CUUSOO project. That means we're more than halfway to our goal!

As promised, we've released two new bunny balloons to thank all of our supporters for your hard work. If you are not worthy of this prize, we trust that you will not take it. You're on the honor system. We'll know.

To claim your free Dr. Hare Deluxe Balloons, log in to your Poptropica account and enter the promo code DRHARE5000.
Head to the store and get it while you can!