Lights, camera, ACTION! Over the last few days, they've announced the release of Member's Only gear in the store. As usual, all three items are related to the upcoming new Poptropica content Back Lot Island. It's interesting that all of the items harken back to the old days of Hollywood. It seemed from some of the teaser images that Back Lot Island might take place in both the modern world of film-making and the past, but with the release of these items, it's starting to look like it's going to be much more focused on classic cinema. Only time will tell!
The first item is an old-timey director's costume, like you'd expect to see in a 1920's silent movie. The Creator's Blog says that it's a three-piece outfit that "comes with a beret, pinstriped outfit, and a bullhorn that lets you call the shots." It's pretty cool in a retro-fashion kinda way.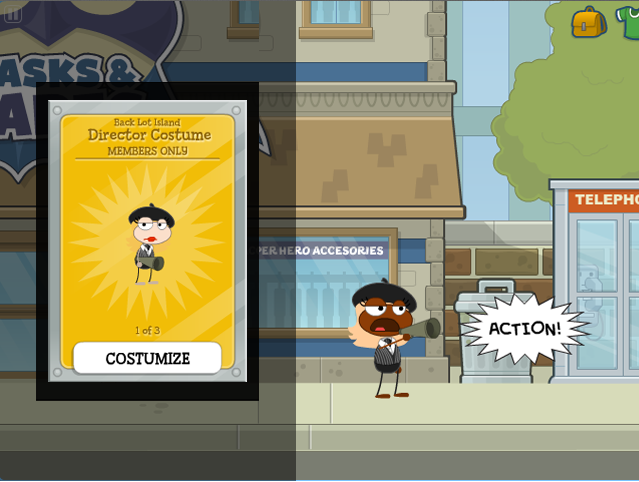 The next item is a clapboard, those black-and-white striped things they used to use on movie shoots so they could sync up the sound and the images later on in the editing room. (That's today's movie trivia.) Press the spacebar to put into into action and be your own P.A.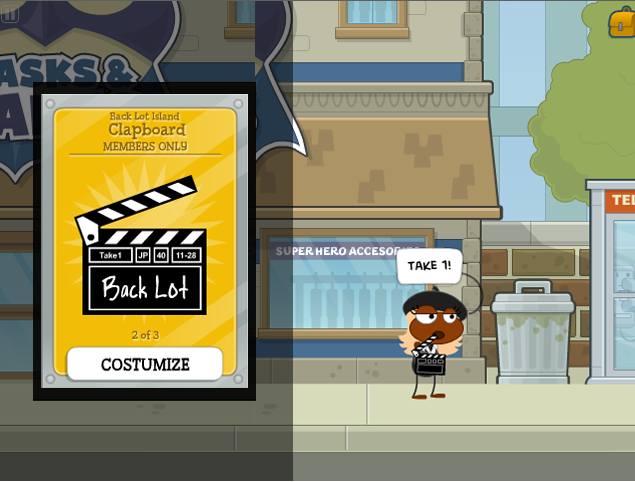 The final item is pretty awesome. It's called The Silent Treatment and when you use it, you turn all of Poptropica into an old black-and-white movie, "complete with film grain". Now you can re-play Skullduggery Island or Wild West and pretend your Poptropican is in an old movie! Remember to grab these items now, because once Back Lot Island launches, they're gone.