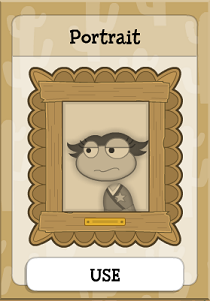 You will officially be acknowledged as the Marshal in Wild West Island if you have your Marshal's Portrait. Place this to your Marshall Office in the Diamond Plains and you will get the Pea Shooter on the Marshal's table.
How to Get the Portrait
Go to Dusty Gulch and talk to the guy at the photo booth, it's located at the right side of the street where you arrived. Because you're now the Marshall, he'll take your picture. Use the mouse to try and keep the camera steady and straight and when you do, you'll have your very own photographic portrait.