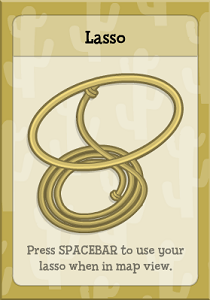 Use the Lasso to capture the lost calf in the island. It's tough to get a hang of this, but once you do you'll be like a real steer-ropin' cowboy. When you press the space bar, the Lasso will start twirling and when you press the space bar again, it will release to catch the cow. You will also need this to capture the famous El Mustachio Grande.
How to Get the Lasso
Ride southeast to Rock Ridge. When you arrive, talk to the guy with the cows. He'll tell you that he needs you to find and catch his calf. He'll give you a lasso to help.