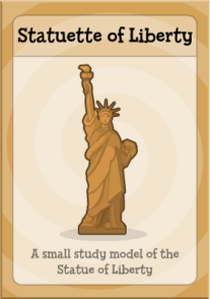 The Statuette of Liberty is a small model of the real statue and is one of the missing items that you need to recover and return to the correct time period. This Statue Model must be return in the time of Statue of Liberty(1882 AD – 10'oclock in your Time Device) give it to the French man.
How to Get the Statuette of Liberty
The Statue of Liberty (big one) is at 1882 AD (10 o'clock on the time device), but the smaller study model is high up on Mount Everest in 1953 AD (11 o'clock on the time device).
Go up the path and rope to find the model, then bring it to the construction building at the bottom of the real Statue in 1882 AD.