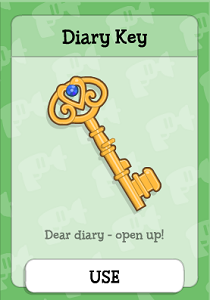 Use the Diary Key to open up CJ's diary, which is on the shelf of her mini office where you find her computer. You will find that she wrote something on her diary but it was torn out. You also need to get the torn page from the trash to completely reveal the secret massage of CJ.
How to Get the Diary Key
First, you need to get the battery out from the truck and place it to the remote control on the living room. Jump up onto the table top, stand next to the TV remote, and then use the battery from your backpack. Then jump onto the green button on the remote to turn the TV on. Now jump up onto the TV and climb the antenna to build up a static electricity charge. You'll see white sparkles all over you. Then jump up to the left to the green ballon. The static electricity charge will attach you to the ballon and you'll float up and to the left. You will land safely on the frame of the Poshville Boardwalk picture on the wall. Jump off to the left, and you'll land on the shelf with the fish food. Push it to the left so that it tips over and drops food into the fish tank. The fish will start eating the food and will be distracted so that you can jump into the tank and take the key.