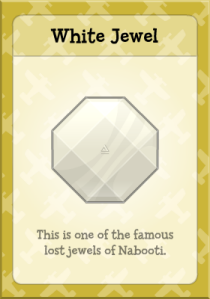 The White Jewel is the last missing jewel that you will find in Nabooti Island which is you main mission in this island. Once you complete all the missing five jewels, return to the Nabooti Museum and receive your reward.
How to get the White Jewel
At the end of your exciting quest in the Diamond Mines, there is a large black rock with diamonds still inside it. Click on the rock and you'll play an easy mini-game where you need to find the final white Nabooti crystal with a magnifying glass. The Nabooti crystal is the one with a tiny inscription on it. It's over on the left side and very easy to locate.