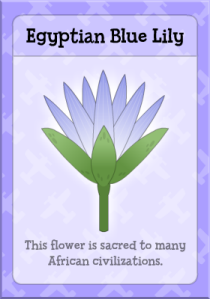 The Egyptian Blue Lily is an item that you will use to trade for another item in Nabooti Area. You'll use this to trade for a Desert Turban that you will use to get the other jewels in Nabooti Island.
How to get the Egyptian Blue Lily
Fly the plane to Blue Nile Falls on your map. When you arrive, jump up onto the platforms and go up to the top where you will see a purple flower called an Egyptian Blue Lily.