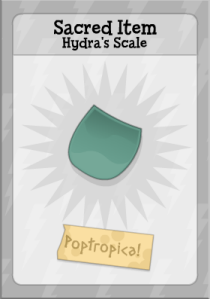 The Hydra's Scale is one of the sacred items that Zeus asked you to find to save Poptropica and to become immortal.
How to get the Hydra's Scale
Dive down underwater you can use the bubbles in the water for additional air. The way you want to go is across the top, down the right, and then left on the bottom. Soon you'll get to the entrance to the Hydra's lair. Go inside the cave entrance. You will encounter the Hydra's many heads. When each head snaps out to you, jump up and land on top of it. After you knock out all of the Hydra's heads, you can get the scale by clicking on the Hydra's body.