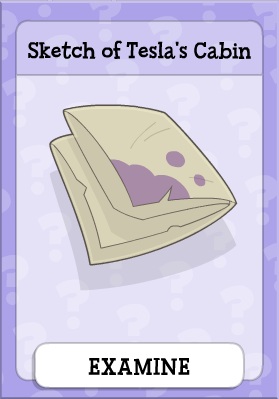 Now that you find out Tesla is innocent, you will need the Sketch of Tesla's Cabin to find out what could be reason why Tesla was setup. There could be someone who wants to get rid of him and take something from his cabin. You will use the Sketch of Tesla's Cabin to compare the it to what it looks like before he left and what it looks like after the incident.
How to Get the Sketch of Tesla's Cabin
You need to talk to Tesla that is captive in the coal car, but the security guide would' allow you to go near him. So you need to sneak in by running to the roof of the train. Here comes the action! Go back to the luggage car and jump up through the open hole onto the roof. Run to the right on top of the train, while avoiding the obstacles by jumping and ducking. You'll get a brief warning about upcoming obstacles with flashing red boxes. Jump down on the last car to talk to Tesla, give him the pencil and he'll give you a sketch of his cabin that he made so that you can compare it to what it looks like now and see if there's anything different.