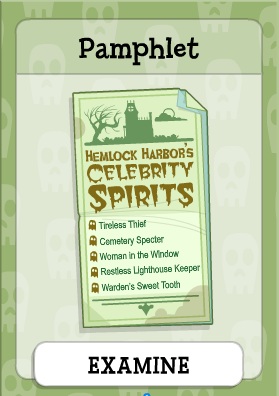 The Pamphlet contain the information about Hemlock Harbor's Celebrity Spirits in Ghost Story Island. It will be the first item that you will get in the island.
How to Get the Pamphlet
Leave to the Main Street to the left and enter the Foggy Forest. When you arrive, you'll hear a sound and a kid with funny blonde hair arrives from the left. He offers to be your guide but then runs away when the town magistrate appears. He drops a Pamphlet as he runs off and it lands in your backpack.