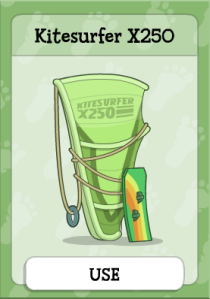 The Kitesurfer x250 is a powerful kite that you will use as your vehicle to find evidence of Cryptids existence, but Gretchen will come over and burn your Kitsurfer x250. She is so bad, she said that she is up to the money price and no one can get ahead of her in winning. But because of this Mr.Mews will find you on the sea and help you to get the evidence. As an added bonus, he will also lend you his helicopter.
How to Get the Kitesurfer x250
Kitesurfer x250 is for sale in the Kitty's Kite shop, but they have a promo that you can try their Kitesurfer x250 before you buy it you will just need a Nylon Rope. So before hand you should get the nylon rope, once you get it go ahead to the Kitty's Kite shop and use the Nylon Rope, then get the Kitesurfer x250. Now go to the ocean and give it a try.