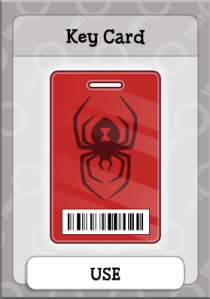 Use the Key Card to open the door and enter to the Black Widow's private gallery and secret hideout. She is storing all the art she has stolen during her many museum heists over the years. Here is where you will save all the art that Black Widow has taken.
How to get the Key Card
Go inside the Jazz cafe, walk to the right and the mysterious man will be there. He will run away from you. Follow him to the right to begin a big chase. During the chase scene, you'll be riding on a scooter trying to catch the mysterious guy. You don't really need to catch him during this part. All you need to do is avoid the different obstacles that appear in the road as you go by. The chase lasts for a minute or two and you'll arrive at the Docks. The thief will escape in a waiting motor boat but will drop a key card which you will pick up.