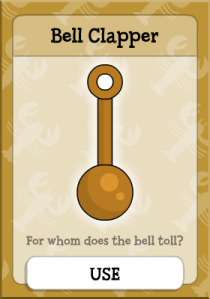 The Bell Clapper from Big Nate Island is the reason why the students at the playground don't go to school anymore. It was lost and your mission is to bring the bell clapper on the bell.
How to get the Bell Clapper
Once the detention lady leave the detention room, go over to the green filing cabinet on the right and click on it to reveal a secret ladder leading down. Click on the ladder to go inside.
Climb down the ladder. It's pretty dark, but there's a power switch at the bottom of the ladder. Click on it to turn the lights on. Walk to the right and you'll see a bronze thing hanging on a hook above the workbench. This is the bell clapper for the schoolbell.