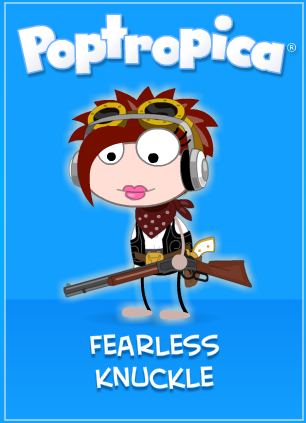 Congratulations to Fearless Knuckle who won our first Fan Costume Contest!  The theme was "Summer Fun" and Fearless took a Wild West approach for her Summer outfit.  It's not all Old West, though.  Check out her awesome steampunk goggles and hi-tech headphone combo.  So cool!
The release of Super Villain Island stalled us a bit, but we're back on track and it's time for our next Fan Costume Contest.  The theme for this one is…Fall Fashion!  Put together your best Fall Fashion outfit and then use the Avatar Studio to create a link to your Poptropican.
After you post the link in the Comments section below, remember to STAY in your Fall Fashion outfit until noon EST* on Thursday, October 18th!  We'll be grabbing images next week and if you change your outfit before then, that's the outfit we'll grab.  And don't forget to write a sentence or two about your Fall Fashion outfit!  That could be the difference between winning and…not winning.
Good luck!
* we're on the east coast of the U.S.  If you're not sure what the cut off time is, just stay in your Fall Fashion costume until Friday, October 19th and you should be covered!