OK, Poptropica Members. After waiting very patiently for the past six years, Monster Carnival Island has finally arrived for members to play. The written walkthrough is now available here: Poptropica Cheats for Monster Carnival Island. Hey members, what do you think of this newest island for Poptropica? Post your thoughts in the comments section below!
Non-members are able to play a limited demo of Monster Carnival Island while it is in early access mode.
I ran into some bugs the first time through. It's important to follow the steps in the walkthrough in order, or you could get into a scenario where you can't complete the island and need to restart. Thank you to Thinknoodles and others for pointing that out!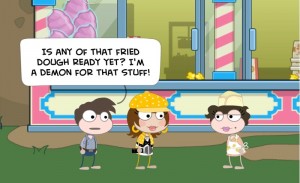 A demon for fried dough? This is what we call foreshadowing, people!
Share the post "Poptropica Monster Carnival Island Has Arrived in Early Access"
{ 10 comments }