Halloween is a full month away, but Poptropica is already getting into the spirit with the special re-release of the Haunted House mini-quest in the Poptropica Store. It is free for all players this month. And as a special bonus, if you complete the Haunted House quest, you'll get the Zombify power which is both a Zombie costume and a special power that lets you turn any other Poptropican into a zombie.
The Haunted House mini-quest itself has not changed much since it was first introduced two years ago. Take a look at the full walkthrough for Haunted House if you haven't completed it yet. If you've already finished it, you can get the Zombify power card just by going to the party in the crypt underneath the graveyard.
Here's the walkthrough video: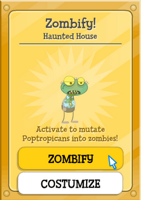 The Zombify costume is just as good as the many Poptropica monster costumes we've seen before. It features the standard-issue zombie green skin and sunken eyes, along with yellow teeth. For girls, there's a tattered dress. Boys get a somewhat disheveled shirt and tie combo. A nice little touch is that green goo will periodically drip from your chin. Mmmmm. Zombilicious!
October will be Halloween Costume month here on PoptropicaSecrets.com! Keep your eyes peeled starting tomorrow for a bunch of cool Poptropica costume ideas and secrets to last you all the way to Halloween itself.
P.S. Did you know the Center for Disease Control posted a guide on how to survive a Zombie Apocalypse? No kidding! If it happened in Poptropica would it be a Potropicalypse?