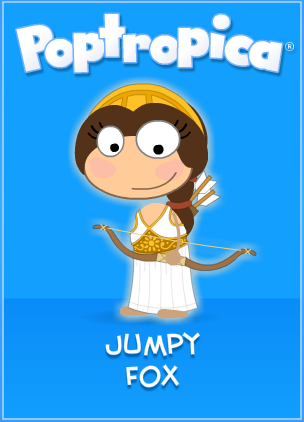 Congratulations to Jumpy Fox for being the winner of our 4th Fan Costume Contest!  The theme, of course, was Your Favorite Character from either a book or a movie.  Jumpy Fox chose Artemis and wrote this: "This is my best interpretation of what Artemis would look like after wandering around Mythology Island (and staring at the statue of Artemis) for a couple hours… I know a lot of good books and good characters, but I couldn't find one that was great. So I chose Artemis (Artemis bless me!)."
Is Artemis in a book or a movie?  Probably!  Probably in a lot of books and movies.  And she was able to cleverly add a bow and arrow to her costume, which is all the rage these days. Well done, Jumpy Fox, and thank you to everyone who participated!
One of my favorite costumes was the very clever zombie Harry Potter, but maybe that's because I'm all jazzed up for Zomberry Island!  And speaking of Zomberry Island, it ships tomorrow for members!  Can't wait!  Looks like 3pm EST for the zombie-fruit apocalypse to begin.  As soon as it's open, I'll be getting to work putting together our comprehensive video and written guide.  As always, the video walkthrough will be first, followed by the written walkthrough.