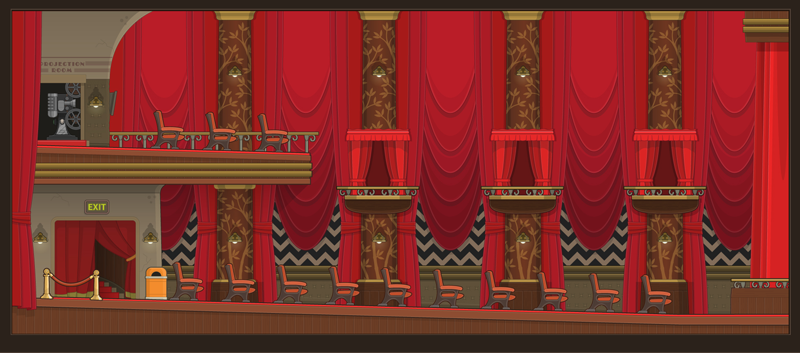 You've all voted and the winning plot of Movie Island is…the Plot of Seymour the Stuntman!  Here's a recap:
As soon as you leave the blimp, you get stopped by a talent scout, who will be a helper for the rest of the island, just like the journalist for the New York Times on Mystery Train Island. He says that you look like you would make a good actor/actress and takes you to the movie lot. You then meet the director, who decides that you would make a better actor or actress than SEYMOUR THE STUNTMAN who is currently going to play the role (Seymour is the villain, and this is his reason to try and stop you). You visit the stunt area, the costume room, the script writer's room, your trailer (which is basically where you meet with the talent scout every now and again), the set (which changes throughout the island, since you're filming a movie, and a movie doesn't take place in one room alone), and other various rooms. Seymour then sabotages things (e.g. scrambles all the scripts up, hides the costumes, hires the REAL versions of the villains in the movie [e.g. ninjas, thugs, etc.]) and finally, takes your trailer to some far off place, leading to a chase scene, like in Cryptids Island or Wild West Island. The director, incidentally, films the scene in the helicopter, and decides to put it in the movie. Also, the talent scout, who was in your trailer when Seymour hijacked it, getting another point of view. Plus, the car you took had a camera in the dashboard, since it was a car for the movie, getting yet another point of view. Seymour changes his ways, knowing that he's now going to be in the movie again. After the red carpet premiere, the director hands you your medallion.
Congratulations to Smart Dolphin for writing such a great description of our imaginary Poptropica island!
Sadly, our Design Our Own Island project is almost at an end. But I want to end this with a bang. The final piece is to figure out what costumes the characters on Movie Island should be wearing. So…re-read Smart Dolphin's plot above, figure out which costume you want to create, and go create it! This will work just like our Costume Contests:
Put together a costume for a character on Movie Island

Open your Avatar Studio and post the link in the comments below
Write one line about who your character is
STAY in your movie character costume until next Tuesday, February 19th.  I'll grab all the costumes and descriptions between now and then and post them for everyone to see.
This isn't a contest, just post the most creative Movie Island style costume you can come up with. Enjoy!