If you've been reading the official Poptropica blog then you know that over the past few weeks they've been posting pictures of the Dr. Hare toy showing up in many different places around the world. The first place was the Lagoon Amusement Park in Farmington, Utah. Now there's a new post with Dr. Hare on a bridge or wall in front of a river with a giant ferris wheel. My guess is that it's in London and that's the Thames River with the Millennium Wheel in the background. What do you think?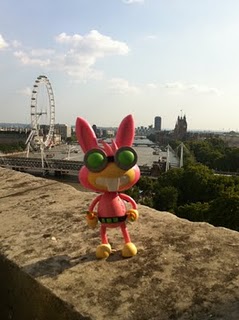 The creators also made a banner graphic for Dr. Hare's travels, so they'll probably be tracking more of his travels. Will all of his visits be to amusement parks and ferris wheels? It seems like it's all related to the release of Mystery Train Island, which is about the 1893 Chicago World's Fair, which featured the world's very first Ferris Wheel. It would be cool if Dr. Hare turned up in Chicago!

Oh and some of you may remember that here on the Poptropica Secrets blog a while back, we featured something very similar: the travels of Balloon Boy throughout the world. Except that Balloon Boy is real. Yeah, real.