I feel it deepening, it's just beneath the skin, I must confess that I FEEL LIKE A GENIE!~ (Any Poptropican who listens to Skillet knows what I mean ;p)
Snap Crackle and Poptropicans, hello there peoples! So, thanks to Slippery Raptor, I found out a link to some dialogs in Poptropica (even UNRELEASED ONES!). I changed the link he gave me around some, and I found the Dialogue for the unreleased Arabian Nights Island! Here is a picture of the dialogue from the Bazaar: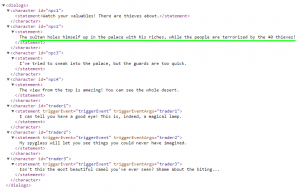 (Click HERE to check out the Background for the Bazaar, and HERE for the backdrop, which is the background to the background ;p)Yes, camels do bite. Arabian Nights has taught us so much already!
So, from this scene, it seems that the 40 Thieves are raiding the Bazaar (Or looting, I'm not quite sure on how things work over there), and the Sultan is too chicken to do anything about it. Then it seems that you are walking around the Bazaar and you come across a man with a lamp, you click on it, he says blah blah blah. (Keep in mind, this is just for Episode 1.)

So this is where we're on a cliff I presume. Here's the background and backdrop of the Cliff. From what the background looks like, we have to navigate around the cliff, to the other side. That's probably where we come into the Cave:

Now you're inside the cave. I guess the mission as of now is to locate the 40 Thieves and return everything that was stolen to its rightful owner? Meh, just my guess. Here is the Background and the Backdrop.