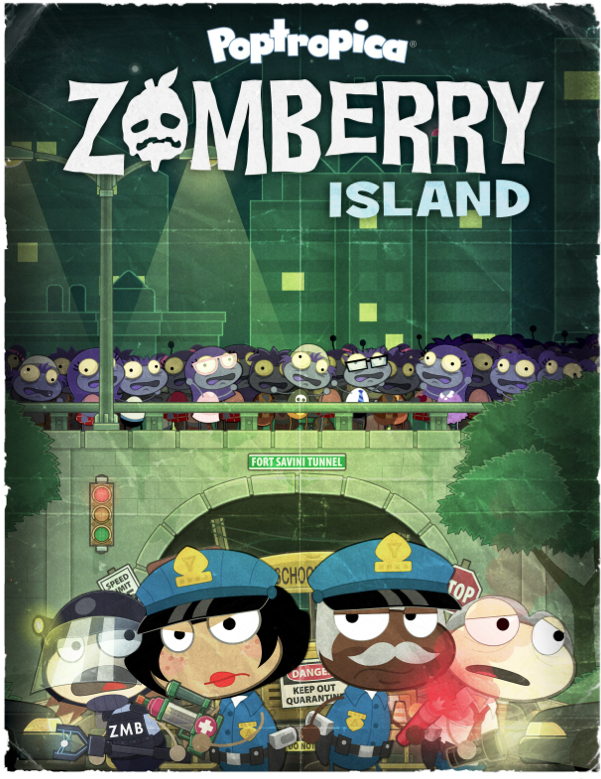 Last week, I suggested an idea for how Poptropica can make itself more fun for those long spans of times between the release of new islands. The main problem, of course, is repeat playability. Once you've played and completed Zomberry Island, for example, what do you do while you're waiting for Night Watch Island? The creators of Poptropica spent so much time and effort creating the super cool Zomberry Island, isn't there some way to make it so that you want to play it again (and again and again and again)? Wouldn't you want another reason to  roam around a world of zombified Poptropicans? Of course, you can always re-play the island, but that just doesn't feel the same, does it? (At least to me.)
My solution was a Hub Island concept, which you can check out here. In the comments there were some good responses and feedback. But, as is happening a bit more these days, the comments got kind of…*ahem*…side-tracked. Nothing wrong with that, but I'm really dying to know what the brilliant minds behind the entries to our incredibly creative costume contests and make-our-own-island project can come up with.
SO…in the comments section below, tell me what your idea is for how Poptropica could make itself more playable between releases of new islands. (Please be respectful and stay on topic. If you want to have a general chat, the previous blog post is a great place for that.) Think of the challenges that would need to be overcome: it would need to address the fact that the story of a completed island is, in fact, complete. So, where does it go from there? It would need to be something that the creators can do simply — it can't be an entirely new plot for the island, that would take too long. And, most important, it would have to be something that players would want to do again and again.
Hit me with your awesome ideas! Like I said in the last post, maybe the creators will see it and make it a reality. If I get enough, I'll throw them into a poll to see which ones are a hit. And remember to use a specific example that will help illustrate your idea.