It's finally here. After weeks of voting, we've gotten down to the two finalists in the great Poptropica Island Smackdown: Spy Island and Mythology Island. Both islands defeated many strong competitors along the path to the championship round and are ready to go head-to-head to determine the best Poptropica Island so far. Here's a more in-depth look at the two islands that are vying for the crown along with a personal pitch from representatives for each.
Mythology Island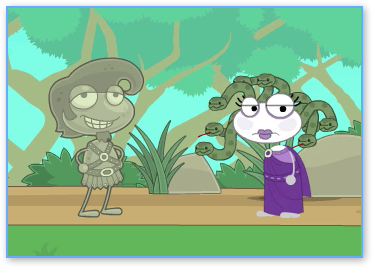 You're on a quest from none other than Zeus, king of all the gods in this epic island. You'll encounter all kinds of gods and goddesses, along with many fantastic creatures from Greek mythology as you try to recover five sacred items hidden throughout the island. But at the very end, you'll be betrayed by Zeus and must fight to save all of Poptropica from his rule. Mythology Island was an instant classic when it was released in the Spring of 2010. To get to the championship round, Mythology stormed past Reality TV Island, Steamworks Island and Counterfeit Island. All were fierce competition, but Mythology prevailed.
Spy Island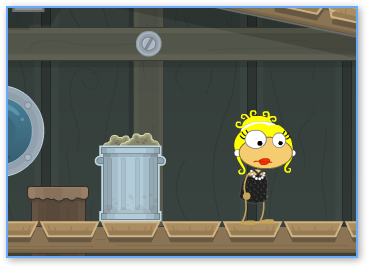 Something strange is happening in Spy Island and the citizens of Poptropica are being zapped by lasers from the sky and are losing their hair. Just as alarming, three fellow agents have disappeared. It's up to you to put your super spy skills to use to rescue your agents and get to the bottom of what's going on. You'll have to infiltrate the nefarious villain organization B.A.D. to stop a terrible plot. You'll get to use all kinds of cool spy gear as you complete this daring and dangerous mission. Spy Island beat out Super Power Island, Nabooti Island and Time Tangled Island to get to the championship round. All three put up a fight but were no match for the slick and savvy Spy Island.
A Word from Director D
Hello, Poptropicans. Here you are about to cast the most important vote of the year. You will get to decide which island wins the Poptropica Smackdown. It's clear there's only one possible choice: Spy Island. I know I turned out to be a traitor to the agency, but I still know a fun mission when I see one. Look at the competition: a bunch of silly people running around in togas and cowering before false idols. And don't get me started on that ridiculous Hercules fellow. Clearly, Spy Island deserves to win so make sure to cast your vote accordingly.
A Word from Zeus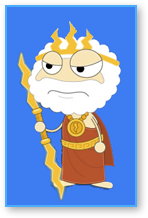 Greetings, mortals. This is Zeus, king of all the Gods and ruler of the heavens. Normally, I wouldn't bother myself with mortal matters such as this ridiculous contest. However, I feel compelled to intercede on behalf of Mythology Island as it is really the one one true choice. Yes, I betrayed you and tried to trick you into giving me even more power than I already had, but you can trust me on this: Spy Island is just filled with silly gadgets and ridiculously stupid villains. B.A.D.? Please. One lightning bolt from me could take care of that entire organization. You have before you a critical choice. Vote wisely. Vote Mythology.
So there you have it. Only two islands remain and only one can win. The voting will be open all weekend, so cast your vote now and watch history being made. Which Island will prevail and be crowned as the Smackdown champion? The choice is yours!
Which Island Should Win the Smackdown Championship?
Mythology Island (68%, 1,680 Votes)
Spy Island (32%, 785 Votes)
Total Voters: 2,465
Loading ...