Can you believe it? Poptropica turns 4 years old in September, and a big birthday party has already started. Just like last year's 3rd Birthday party, there are some special events happening in the game. Here's a quick guide to the party.
Poptropica 4th Birthday Costume
There's a new 4th Birthday Costume available in the game. You have a small chance of finding it whenever you go into one of the common rooms in the game. When you enter, you'll see a bunch of balloons fall from the ceiling and if you're lucky, one of them will be the special 4th Birthday Balloon. It's blue with a big orange number 4 on it. Click on that balloon to pop it, and you'll get your own special 4th Birthday Costume. It's a giant birthday cake costume with a "4" hat. The special move, which you activate when you press the space bar, is a cool cake throw.
Tip: The best common room to visit is the Soda Pop Shop in Early Poptropica. It's a small area, so you can quickly see if the balloon is there or not. If it isn't, just exit and go back in to try again. The balloon is rare, so you may need to try a lot of times before you get it!
Poptropica 4th Birthday Balloon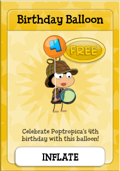 Want your own commemerative 4th Birthday Balloon to carry around in Poptropica? Everyone can get one in the Poptropica Store, even if you're not a member. Just visit the store to get the free balloon. This one is orange with a blue number 4 on it. It's pretty much the same as the 3rd Birthday Balloon that they gave away last year. I saw lots of people carrying both the old and new one in the common rooms.
Rare Outfits Re-Released
The most exciting news is that during the month of September, Poptropica will re-release some of the retired rare outfits from the store. Each week, two retired rare items will be available for members only to get in the store. If you're a paid member on Poptropica, this is a great opportunity to get some cool costumes that you might have missed.
The first week's costumes are the Steamworks Mech Pilot and the Renegade Robot outfits.
Video: Finding the 4th Birthday Balloon
Here is a short video that shows what the 4th birthday balloon looks like when you find it in one of the common rooms. And it also gives a sneak peek of the special 4th birthday costume.
What do you think of the 4th Birthday Party on Poptropica?
It's amazing. So much fun! (52%, 1,147 Votes)
I'm having a good time. (20%, 440 Votes)
Meh. It's ok. I could take it or leave it. (15%, 336 Votes)
Totally lame. Too much like last year. (13%, 296 Votes)
Total Voters: 2,220
Loading ...