Now that Cryptids Island has launched and the Christmas holiday is past, it's time to get back to business: round two of the Poptropica Island Smackdown! To recap, here's where the standings were at the end of round one: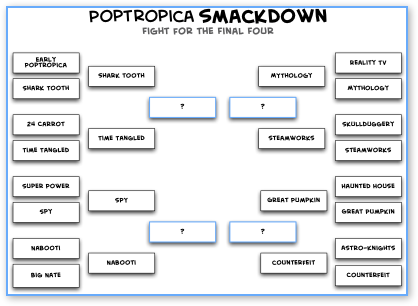 And now onto the first match in round two: Shark Tooth vs. Time Tangled Island. Shark Tooth defeated Early Poptropica to advance here and Time Tangled beat out 24 Carrot. But only one island can advance to the final four. So which will it be? Which island is better? Shark Tooth or Time Tangled? The best part is that you decide! Vote below for your favorite!
Which Island is Better?
Time Tangled (75%, 751 Votes)
Shark Tooth (25%, 255 Votes)
Total Voters: 1,002
Loading ...