Hey Poptropica fans, ever wonder which is the best Poptropica Island ever? What better way than to put it to a vote. Starting this week, we're going to hold a tournament where we put two islands up head to head and then you get to vote on which island is best. The winner advances to the next round and the loser is cast aside.
In the first round, we'll put two old favorites up against each other: Early Poptropica Island and Shark Tooth Island. These were the first two islands released in Poptropica and both are very easy to complete. If you follow the walkthroughs for each, you can finish them each in under ten minutes! Read about each of the islands below and then cast your vote at the bottom on which you think is the better of the two!
Early Poptropica
Early Poptropica is the first island that most Poptropica players take on in the game. In this quest, your job is to help the settlers of Early Poptropica recover three items that have been stolen. Your adventures will take you deep underground and high up in the clouds as you search to find their missing pig, bucket and flag. In Early Poptropica, you'll try to avoid spiders, get past a giant, and even fly around with your own jet pack.
Shark Tooth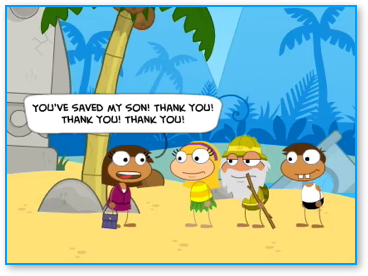 In Shark Tooth Island, you'll have to get past the giant shark in Booga Bay and rescue Professor Hammerhead and a small boy who have been trapped on an island off-shore. You'll need to get the help of the local medicine man and uncover some of the ancient mysteries of the island deep underground while you try to get the ingredients you'll need for the medicine man's potion. Shark Tooth Island is quick and easy to finish, and features an entire museum about sharks. It's also the home of the famous Shark Boy!
Let's Vote
So which of these two islands do you like best? Which one should advance to the next round in the Poptropica Island Smackdown? Vote for your favorite below and check back in a few days to vote on the next set of contenders!
Which Island is Better?
Shark Tooth (69%, 1,242 Votes)
Early Poptropica (31%, 565 Votes)
Total Voters: 1,796
Loading ...