Get into Mordred's Final Battle
One of the questions I keep seeing in comments here on the blog and in forums everywhere is how to solve the door puzzle at the end of Astro-Knights Island. This is the door where Mordred runs into after he reveals that he is the princess in disguise and takes away all of the special weapons you have gotten. Once you solve the puzzle and go through the door, you can take on Mordred in the final battle and rescue the real princess. But you can't do that until you solve this puzzle!
There's a really easy way to do it and all you need to know is the pattern. It's easiest to assign numbers to each of the puzzle pieces and then click on them in a special order. Here's a picture that numbers the pieces from 1 to 20.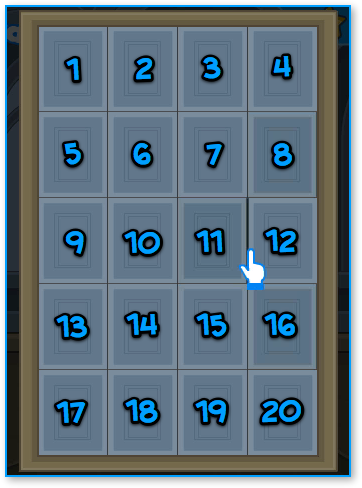 OK, now that you know the numbers for each of the pieces, click on them in this exact order.

5, 6, 7, 8, 10, 11, 13, 14, 15, 16

Congratulations, you've solved the puzzle and now are ready to move through the door and into the final room to stop Mordred once and for all!