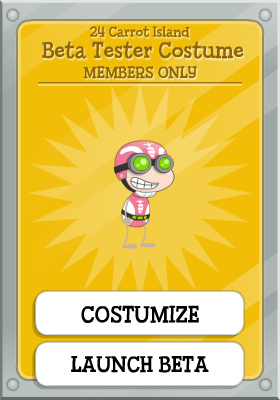 Several days ago, the creators of Poptropica made an announcement that they would be changing 24 Carrot Island.  You can read all about it here. Well, the change is here and Members can now play 24 Carrot BETA Carrotene Island. The gist of what they've done is upgrading 24 Carrot Island with music and sound effects, a bigger screen, and some kind of improvement to navigation.
In short, they're trying to make 24 Carrot Island not only better, but something that all of us who have played through all of the islands might want to play through again. I think it's very cool that they're adding sound, increasing the screen size, and making the navigation better, BUT…is that the best way to make the Poptropica experience better?
Don't get me wrong, Poptropica is an amazing game. But I do think it suffers from a big problem: repeat playability.  Once you've played through all of the islands, what makes you want to play them again? Because of this blog, this is something I've thought a lot about. Here's a solution I came up with:
The creators could make a "hub" island. I'm thinking a blimp air terminal, since that's how you get around the world.

The hub would have a section in it for each Poptropica Island that essentially acts as a store with outfits based on that island's theme. The stores are locked until you complete the island.
Once you've completed an island and the store unlocks, you can buy the outfits using island-specific currency that you get by re-visiting that island. Not necessarily doing the entire island over again, but re-playing some game or sequence on the island to win that currency.
For example, once you've completed Skullduggery Island, the Skullduggery Store would unlock in the Blimp Station. Then you could win Skullduggery Points by re-playing parts of the island to buy costumes from the store.
What do you think? Too much like 'grinding' in other games? A good idea? Or do you have a better idea to make the islands replayable? Let me know in the comments below! Who knows, maybe the creators are watching…