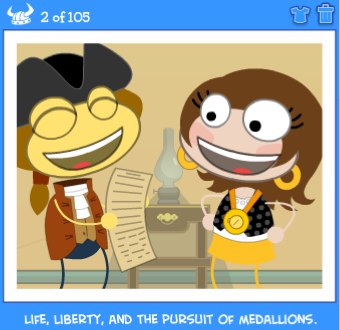 Happy Independence Day to all of our American Poptropica Secrets fans! After you've gone to the parades, enjoyed the barbecues, and watched the fireworks, come back to Poptropica Secrets and show us your best Fourth of July Costume! Just like our usual costume contest, post the link to your Avatar Studio image in the comments below. This isn't a contest, so no poll, but I bet some of you can come up with some great outfits. (If I'm able to, I'll grab screenshots of the costumes for a later post.)
The theme is Independence, so it doesn't just have to be U.S.-centric Benjamin Franklin wearing red, white, and blue. Come up with a story for your costume that has to do with the idea of 'independence' and share it with all of us in the comments below.
For those of you who get it off, hope you're enjoying your day off from school!