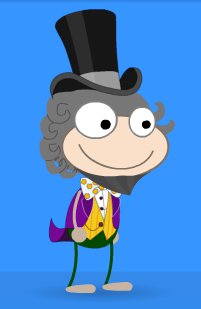 After the last contest, I asked for suggestions on what our next theme should be.  Based on that feedback, as well as the recent Charlie and the Chocolate Factory island from the Poptropica Creators, the next theme for our Fan Costume Contest is…your favorite character!  Just like the amazing costume they created for Willy Wonka (in the image above), can you put together an outfit of a favorite character of yours from a book or movie?  (Or video game, I suppose.)
Here's the catch: the last two contests were won by women archers.  Hmm…I'm starting to see a pattern.  I love Katniss Everdeen, but for this contest let's branch out a little.  So, no Katniss Everdeens this time around please.  That leaves…I believe…about a million other characters from print or screen, including many left from the Hunger Games.
The rules:
Put together an outfit that represents one of your favorite characters using either the Poptropica Store or costumized off of characters in the game.
Starting next Tuesday, December 11th at noon EST, put your costume on and open the Avatar Studio.
Post the link from the Avatar Studio into the comments section below.
Tell us your character name, what book or movie he or she is from, and one line about why he or she is a favorite character.  (Keep it short please!)
STAY in your costume until Thursday, December 13th at noon EST.  Between the 11th and the 13th, I'll grab all of the costumes and then post them for voting.
The winner will be announced Tuesday, December 18th.  Just in time (probably) for Zomberry Island to ship!  (We're guessing it's going to be available for members on the 20th.  We've just got a hunch.)  Good luck and we can't wait to see who your favorite characters are!