OK Poptropica Fans, this is huge! Our roving investigative reporters here at at PoptropicaSecrets.com have been able to obtain a letter sent from Balloon Boy to the Poptropica Creators. As you may remember, Balloon Boy flew up into the air towards the beginning of Counterfeit Island, and he hasn't been spotted since last December. We've been campaigning tirelessly to make sure Balloon Boy is rescued on our Save Balloon Boy page. Now Balloon Boy himself has spoken. He wants to be rescued.
Here's a copy of the letter, which we retrieved from the dumpster behind the Poptropica offices. Along with some picture postcards that balloon boy sent to the Poptropica Creators of his journey over the last nine months.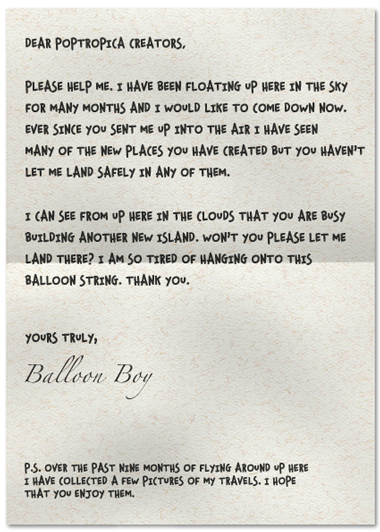 What do you think? Will the Poptropica Creators finally let Balloon Boy land safely on the upcoming island? Will he make an appearance? Or is he condemned to a horrible eternity of flying through the air forever holding desperately onto his tiny green balloon? Let everyone know how you feel about Balloon Boy in the comments below!
Balloon Boy – We will never forget you. Save Balloon Boy