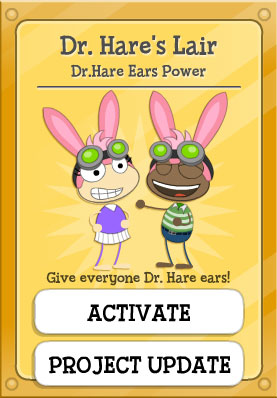 If you're not already aware of it, Poptropica hit its goal for getting 7,500 votes for a Dr. Hare themed LEGO set and because of it has released the Doctor Hare Ears Power.  Here's what they had to say on the Creator's blog:
Sometime this weekend we passed another crucial milestone on our LEGO CUUSOO project. We now have more than 7,500 supporters!

As promised, the Dr. Hare Ears Power is now available for free. To get this card, all you need to do is enter the code DRHARE7500.

(Not sure how to redeem a code? Find out here.)

7,500 votes is great, but it's not our ultimate goal. We're not done until we get 10,000 supporters. So enjoy the fruits of your labor thus far, but if you haven't yet supported our project — or, if you're under 13, gotten someone over 13 to cast a vote for you — now's the time!