Update: Well, it turns out my guess was right. The creators revealed today that Dr. Hare was hiding out in Acadia National Park in Maine. Now the only question is what is he up to?
Dr. Hare is back on the Poptropica Creators blog, continuing his travels. This time, he's shown sitting on some rocks overlooking the ocean. All we know is the hint that he's in a national park somewhere on the East Coast of the United States. My guess is that he's in Acadia National Park, which is on the coast of Maine and is one of the few national parks to border the ocean. The pine trees in the background mean that it's likely that Dr. Hare is somewhere in the northeastern U.S. What do you think? And where might Dr. Hare turn up next?
In other Poptropica news, we're still waiting for Mystery Train Island to arrive on September 9. In the meantime, you can still play the D.C. Diner mini-game. I updated the D.C. Diner guide with a video walkthrough. Check it out!
And after Mystery Train Island, we're in for another treat. Another island, most definitely having something to do with robots, will arrive later in September. Right now, we still don't know much of anything about the Legend, except that a lot of screenshots featuring robots have started showing up in the Daily Pop section. There's also a poster that appeared a few weeks ago in the official blog. Take a look: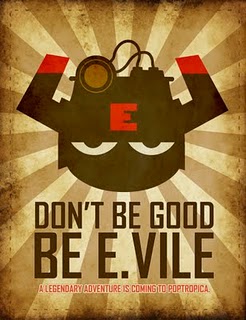 My current guess is that the Legend and these appearances by Dr. Hare are no coincidence. We already know that Dr. Hare has a thing for robots. He created a rabbit shaped robot that he used to escape into outer space in 24-carrot island. He also invented a mind-control device that turned the citizens of that island into his mindless drones. The poster features someone wearing some sort of device on his head. I'm not saying that's Dr. Hare in the poster, but he could have something to do with this robot army. Only time will tell. Until then, I'm going with this prediction.