The Poptropica home page is updated with a coming soon picture for Counterfeit Island. When you click on it, there's a new page that tells you a little more about the upcoming island. The story is that someone is trying to steal all of the world's most famous artwork, which is on display in a museum on the island. It sounds really fun!
There's also a new post in the Creator's Blog that has some concept art for something called the gatekeeper. Here's what the blog says:
Here is some concept art for Counterfeit Island. Watch out for the Gatekeeper! You will only like him when he's…crazy.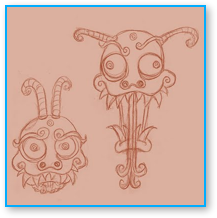 The filename for the screenshot is garg which means that this gatekeeper guy is probably a gargoyle, which makes sense because lots of buildings have gargoyle carvings and stuff on the gates and outsides. The part about liking him when he's crazy is probably a clue for something you need to do in this new island quest. We'll see soon!