We're back with another costume contest!  But first, last week's winner.  The Poptropican whose answers were the closest in Costume Contest #3 was…
Green Drummer!  Way to go Green Drummer!  GD identified all of the items as well as the islands that they're from.  A special mention goes to Wild Comet who was a close second.  Congratulations to all of you who got the right answers!  Here are the official answers for Costume Contest #3: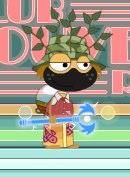 HEAD – the hat from the camouflaged spy on Balding Ave (Spy Island)
FACE – coal-smudged face from the coal shoveler (Mystery Train Island)
BODY – white shirt and red vest from Mr. Silva (Shrink Ray Island)
PANTS – the kimono bottom from the banzai tree seller (Red Dragon Island)
BACK – steam-work engine backpack from the Steam Robot  (Poptropica Store)
HAND – the Lightning Staff (Poptropica Store)
And, for extra credit, some of you correctly identified that the picture was taken on the neon sign of Club Nouveau Riche on Game Show Island.  Nice going!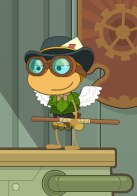 Now, on to this week's contest!  There are seven items in this week's costume: five of them are from five different islands and two of them are from the Poptropica store.  How well do YOU know your Poptropica costumes?  As always, extra credit goes to those who can guess where this week's profile image (above) was taken.  Good luck!