We're back with another costume contest!  But first, last week's winner.  The Poptropican whose answers were the closest in Costume Contest #2 was…
Muddy Dolphin!  Yay, Muddy Dolphin!  That's two winners in a row with Dolphin in their name.  Will the streak continue next week?  Congratulations to all of you who got the right answers!  Here are the official answers for Costume Contest #2: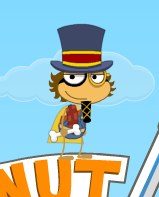 HEAD – the top hat and monocle from R.J. Earls at Rock Ridge (Wild West Island)
FACE – Pharaoh's eye makeup and beard (Poptropica Store)
BODY – farmer's overalls (24 Carrot Island)
CHEST – the tartan sash from the Scotsman on Loch Ness (Cryptids Island)
BACK – the cape from Masks & Capes store  (Superpower Island)
HAND – puppy bone (Poptropica Store)
And, for extra credit, some of you correctly identified that the picture was taken at the Coconut Shack on Shark Tooth Island.  Nice going!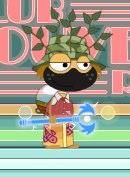 Now, on to this week's contest!  Like last week, this outfit has six items: four of them are from four different islands and two of them are from the Poptropica store.  How well do YOU know your Poptropica costumes?  As always, extra credit goes to those who can guess where this week's profile image (above) was taken.  Good luck!